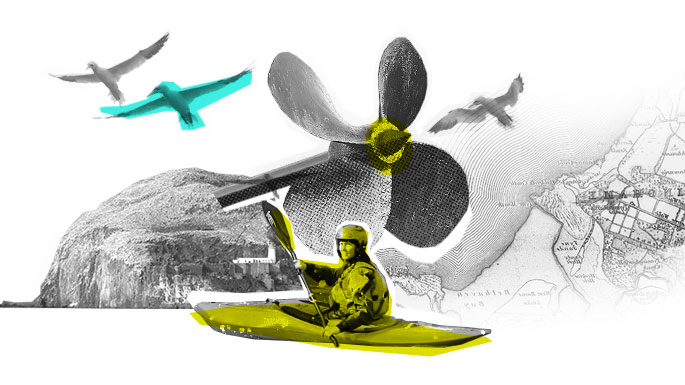 Whatever your taste for adventure is, there is so much to do in Dunbar that if you have never been, you are missing out on one of the very best places to visit in Scotland for a whole host of adventures.
From single day adventures to a full on action packed week of things to do. The big question is, what kind of adventures are you looking for?
Watersports
From wakeboarding to surfing all the way down to diving. If you are looking for adventure waterspouts then the North Sea is the place to be. There are some great diving spots just outside Dunbar harbour with good shore diving and four small islands nearby that are just waiting to be explored. If you prefer your adventure watersports on the surface then Belhaven Beach is one of the best places for surfing in Scotland. With Coast to Coast Surf School just a stones through from Dunbar Beach, you can hit the waves when you visit Dunbar. But if waterspouts in the sea is not your thing then the Cable Wakeboarding Centre is just down the road.
Of course there are lots more watersport adventures you can take part in and with easy access to Dunbar from pretty much everywhere in Scotland, if you are looking for adventure places to go near you, then you need to check out Dunbar.
Land based adventures
Of course not every adventure takes place on the sea. If 4×4 off roading adventure is your bread and butter then just south of Dunbar is Ronnie Dale Offroad Driving School. There is horse riding, kite surfing, cycling, coastal walks and so much more to sink your teeth into. Dunbar is just a short drive from Edinburgh and Berwick and with the amount of things there to do, it is little surprise that so many visitors either stat a bit longer than their planned one day trip or they come back again and again to take it all in properly.
Family Adventures near you?
If you are looking for things to do with the kids this weekend in Scotland then Dunbar has you covered. It offers the perfect day trip location. Whether you are coming from Glasgow or Edinburgh, it is just a short trip down the motorway that even the most impatient of kids should be able to handle (famous last word). And when you get here, you will be spoilt for choice with things to do. East Links Family Park is a popular choice with lots of Day Tripper Families. If you are looking for beautiful beaches in Scotland so that the kids can dig a hole or build 500 sandcastle then the beaches at Dunbar are some of the best beaches in Scotland. And at the end of the day, before you have to head home, you can treat the kids (and yourself) to a delicious ice cream in the town centre or even stay for some Fish & Chips.
---
Whatever your thirst for adventure is, at Dunbar there is plenty to do for all interests. You can find out more information about all the things that you can do in and around Dunbar using any of the navigation links at the top of the page.