Are you looking for the best surfing spots in Scotland?
Belhaven Bay just outside of Dunbar is one of the very best places to surf in Scotland. The beautiful wide and flat sandy beaches just next to Dunbar, with their shallow water offers a great spot for surfers; especially beginner surfers as there are no large rocks in the shallow waters. There is even a Surf School 'Coast 2 Coast' who can help you pick up the basics of what is quickly becoming one of the fastest growing sports.
Surfers have been coming to the East Coast Beach to surf since the 60's and with easy transport links from Edinburgh, it is easy to see so why many surf enthusiasts across Scotland come to Belhaven Beach at the weekend to catch some of the best waves on the East Coast.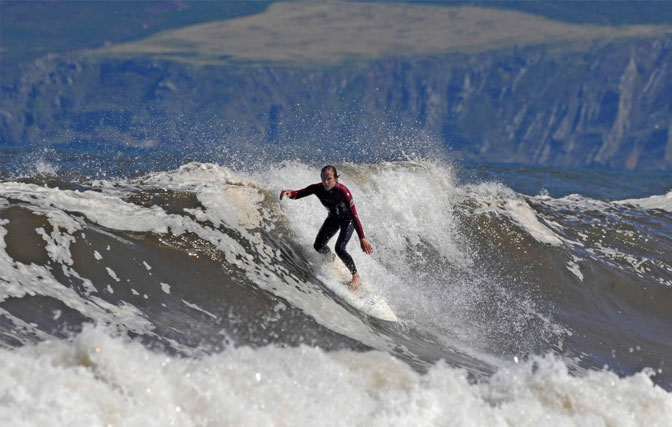 What time of year is best to go surfing in Dunbar?
When it comes to the best surfing conditions in Scotland, it may surprise you to know that Autumn and Winter months are the best for surfing. Why you might ask? It is because around October, the North Sea benefits from bigger swells and more consistent waves. While the summer weather is warmer, the seas is still warm enough towards the end of the year and the waves can, for a lot of surfers, be easier to ride. Combine that with a quality wet suit and you will quickly find that the only time you really experience the cold is after you stop surfing.
Is there more than just surfing in Dunbar?
Dunbar is a great place not just for surfing but for loads of other watersports and water activities on the East Coast. From paddle boarding to coasteering and even diving around some of the islands just off the coast. There is kayaking, kitesurfing, coastal rowing and if the sea water is not to your liking, there is a cable wakeboarding park at Foxlake just outside of Dunbar as well.
You can find out more about the different water based activities in Dunbar that are all part of the '60 Things to do' that make up this site by clicking the link below.
Discover all the Watersports in and around Dunbar
Enjoy.