Scotland is know for its beautiful walking routes and around the area of Dunbar in East Lothian is no exception.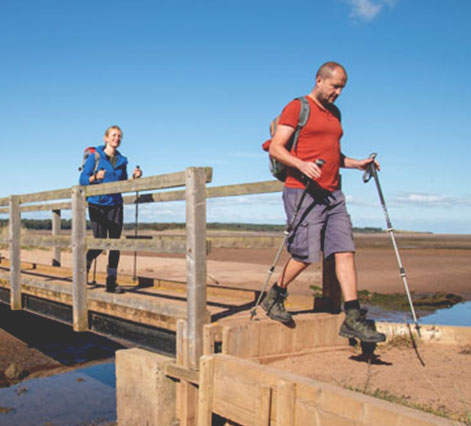 In fact, we would go as far as saying that some of the best walking routes in East Lothian are around Dunbar.
Long walking routes
How does a 134 Mile walking route sound? The John Muir Way is a coast to coast walk that links Helensburgh in the West near Glasgow to Dunbar on the East Coast. This walk offers up a great opportunity to connect with the great Scottish outdoors, using the Green Spaces along the way.
What is there to see on this Walking Route?
A bit of everything. Considering its length, the John Muir Way covers beaches, woodlands, small Towns and Villages, the Capital, Edinburgh and of course Dunbar. The birthplace of John Muir himself.
Discover more about the long walking routes in East Lothian
---
Medium length walking routes
If the 134 miles of the John Muir Way is a little bit too hot to handle then the 'Herring Trail and Statue' walking route in East Lothian may be more to your taste. At 28 miles, this walking route starts in Dunbar and is not just another walking route in East Lothian. It has its origins dating back to the 18th and 19th century where people would carry salted herring from Dunbar all the way to the markets in Lauder looking for Winter Food. While the original creators of this route did so with with baskets filled with Herring Fish, you can follow the same route but with a much lighter backpack.
What is there to see on this Walking Route?
Because it starts in Dunbar, you get to see the historc town and then the beautiful country side of East Lothian and finishes atht eCreel Loaders statue at the junction of Victoria Street and Castle Gate in Lauder.
Discover more about the medium walking routes in East Lothian
---
Shorter length walking routes
There are a number of shorter walking routes around Dunbar and East Lothian. A few choice highlighted walking routes are the hill walking route around Deuchrie Dod and the circular walk from Cove Harbour.
Discover more about the short walking routes in East Lothian
---
Geological Walks in East Lothian
Because of the righ geological features of East Lothians coastline, there are a number of geological walks that you may find interesting. One in particular is the visit to one of the world's most important geological sites – Hutton's Unconformity at Siccar Point near Cockburnspath.
Discover more about the geological walking routes in East Lothian
---
Beach Walks
Dunbar is home to some of the best beaches in Scotland so if you are looking for a refreshing beach walk then begin on Dunbar High Street and head along East Beach to Dunbar Golf Club. And if you want something a bit more 'impacting' the the spectacular Belhaven Bay is one of the most beautiful beaches in East Lothian and should be on everyone who lives in Scotlands bucket list.
Discover more about the beach walks in East Lothian
---
History Walks
With so much history in East Lothian, it can be difficult to choose where to begin. But for a combination of a beautiful walk with tonnes of history, Dunbar and the surrounding are has walks that take you past the ruins of cliff top castles (including Tantallon, Fast Castles and the 2nd Century Edin's Hall Broch). Nearby is the Doon Hill Dark Age Settlement, Preston Mill and Dunglass Collegiate Church.
Discover more about the historic walking routes in East Lothian