As we are now in 2022, it is the perfect time to plan a weekend get away or two for the year ahead.  Yes there is still a lot of uncertainty regarding Coronavirus but a weekend trip in Scotland is now a lot more feasible and realistic than it was over the last two years.
But where should you go? St. Andrews, Glencoe, Islay?
All very nice places. But if you are looking for some of the best beaches in Scotland. If you are looking for some of the richest history and the best in outdoor nature, sports activities and general things to do then there is one place that you truly have to experience. And that is Dunbar.
Dunbar, situated on the east coast of Scotland 30 miles from Edinburgh, is famous for its sunshine, spectacular coastline and Christmas Lights (or it should be)!
It is also the birthplace of the pioneering American naturalist, John Muir. 
However, this town has so much else to offer and we invite you to come and explore it with this list of 60 things (in no particular order), as a starting point.  Get out on the water, be active on the land and above all have fun with your kids (or spoil your inner kid).
Whether you live in Scotland or the North of England, finding things to do at the weekend can, from time to time get tough. Do you go to location X which has the beach but nothing else or do you go to location Y that has an old castle but nothing to entertain the kids.
Well this is where Dunbar can truly shine a bright light on your weekend plans.
Whether you are looking for weekend trip ideas or Easter, Summer or October Week getaway suggestions, then you need to check out Dunbar.
Located right on the east coast, Dunbar is a beautiful town in East Lothian. So whether you are looking for a quick drive from Edinburgh to go to the beach or want to find some of the best places to surf from Glasgow, you need to consider Dunbar. And for those in the North of England, you can truly have a great weekend in Dunbar with so many things to see and do. Just 30 miles from Berwick, Dunbar is easy to get to and makes the perfect weekend get away for all age ranges.
WHY DUNBAR?
Because there are so many things to do.  From adventure and waterports to things to do with the kids and everything in between.
This site is all about the things you can see and do in Dunbar.  So click a category below and start discovering all the things you can do this weekend in Dunbar.
WATERSPORTS & THINGS TO DO ON THE BEACH
OUTDOOR ACTIVITIES LIKE CYCLING & HORSE RIDING
DISCOVER THE HISTORY & CULTURE
So as you can see, whether you are looking for things to do with kids this weekend or you want to be surfing in the sea, there is so much to do and see in Dunbar.
WHERE IS DUNBAR?
Dunbar is located right on the beautiful East Coast of Scotland where those who want to walk bare foot in the sand can along the long sandy beaches. Located just 30 miles away from Edinburgh. And interestingly, 30 miles away from Berwick.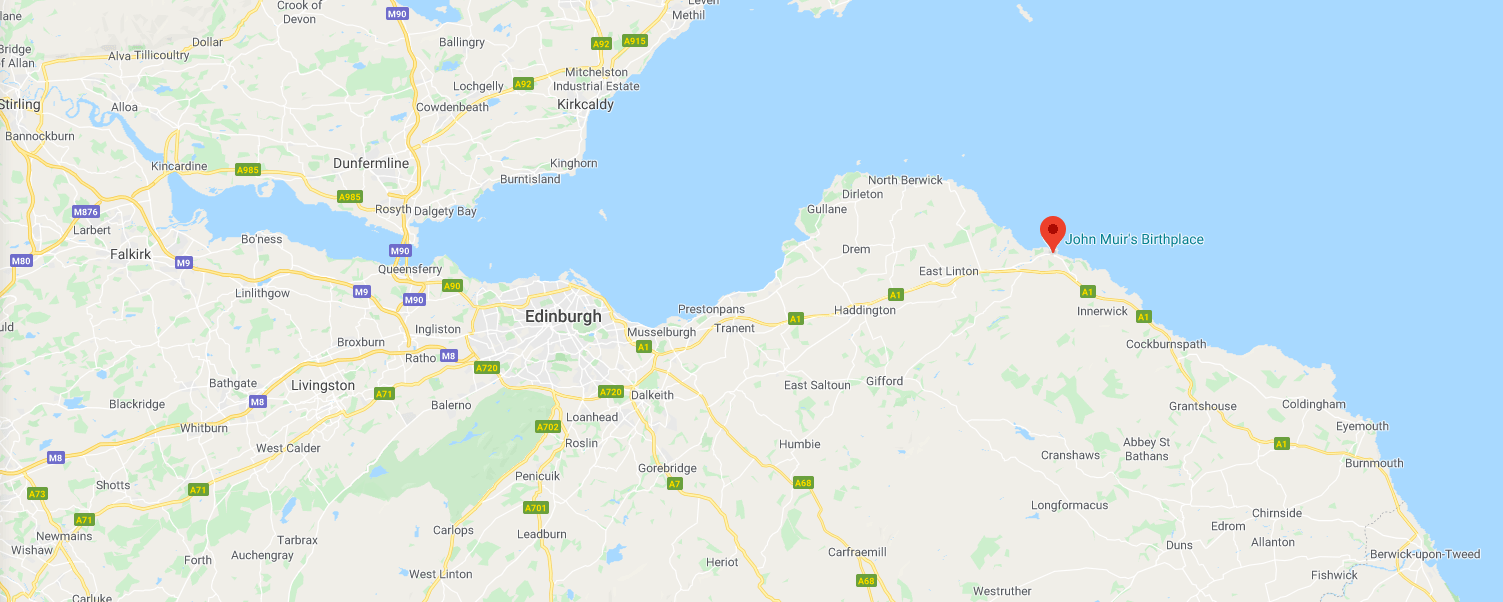 HOW CAN I GET TO DUNBAR?
Dunbar has excellent transport links.  If you live in Edinburgh, you are only 30 miles away from Dunbar so it is a short drive down the A1.  And if you prefer to travel by train, there is a regular train service running between Dunbar, Musselburgh and Edinburgh.
There are also various bus options and you can find out more here…
Borders Buses
Eve Bus Services
East Coast Buses
The Local Area
Steeped in history and with breathtaking coastline Dunbar has become a vibrant centre for a diverse range of outdoor sports as well as a base for a growing creative community.  Dunbar has a strong sustainability ethos with the community uniting under the collaborative Sustaining Dunbar project.
As the birthplace of John Muir, America's naturalist pioneer, Dunbar has always prided itself on its connection with nature and the outdoors. There are an abundance of activities in and around the town which is also famous for its dry and sunny climate making it a perfect base to enjoy a huge range of activities. Take yourself outdoors and in the words of John Muir "I only went out for a walk and finally concluded to stay out until sundown, for going out, I found, was really going in".
For much more information visit the Dunbar Trades Association website and Visit East Lothian.
Please remember to observe Scotland's Outdoor Access Code while you are enjoying any outdoor activity.